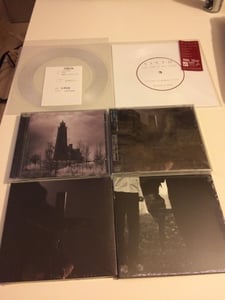 €

10.00
Tando Ashanti
CD:
01. Tando
02. Ashanti
03. Molestus
04. Ritualis
05. Calamitas
06. Nocturnus
07. Opacus
08. Cordolium
09. Ressurectio
10. Septem
11. Presagium
Gatefold sleeve with spot-gloss coating and a 12-page booklet. 500 copies
Released by Init Records
Abalam (Japanese version)
CD:
1. faciem
2. tenebris
3. exanimis
4. desolatum
5. sequax
6. supplex
7. abalam
8. immolabant
9. exhausit
10. timor
11. exterminati
12. neglexerunt
13. inferis
14. Excrucio (bonus track)
15. Odium (bouns track)
DVD:
1. Tenebris (musicvideo)
2. Sequax (musicvideo)
jewelcase CD w/8 page booklet. 500 copies
Released by Longlegslongarms
Abalam (EU version)
CD:
1. faciem
2. tenebris
3. exanimis
4. desolatum
5. sequax
6. supplex
7. abalam
8. immolabant
9. exhausit
10. timor
11. exterminati
12. neglexerunt
13. inferis
Digipacl w/8 page booklet. 1000 copies
Released by Musicfearsatan
XI (second pressing)
CD:
1. Evinco
2. Aspernatio
3. Procella
4. Crux
5. Nex
6. Seputus
7. Fatum
Jewelcase CD w/4 page booklet. 500 copies
Co-release between Heart&Crossbone, GHEEA Music, Nooirax Producciones and Ecocentric Records
MMXIV A.D. XII KAL. DEC.
Flexi Disc:
A1. Odium (Live)
B1. Timor (Live)
B2. Abalam (Live)
Two-sided white flexi disc with red print and sticker on the plastic sleeve. 500 copies
Co-release between Time as a Color, HC For The Losers, Wargame-Records, Désordre Ordonné and The Path Less Traveled Records.
MMXIV A.D. XII KAL. DEC.
Flexi Disc:
A1. Odium (Live)
B1. Timor (Live)
B2. Abalam (Live)
Two-sided Clear flexi disc test press. 5 copies